http://www.divestkitts.com/
http://www.scubanevis.com/
M.V. River Taw

Everybody that dives in St. Kitts dives "The Taw", a 144ft. freighter that went down in 1985. It sat perfectly upright on the bottom until Hurricane Hugo came through in 1989 and broke the wreck into two parts. This is the only site we feed the fish so bring a camera, they are going to be in your face! At 40 ', it's a great place for your first dive.
M.V. Corintian (the Tug)

The M.V. Corintian is fully intact tugboat sitting at 65 feet on a sandy bottom. Off the bow section of the tug is a reef system that tops out at 35-feet. A wreck and a reef on the same dive, what more do you want?
M.V. Talata
This freighter was just passing through but ended up taking on water as she waited outside Basseterre Harbor. The watch keeper was rescued but the ship was not. Talata is now broken up in 55' of water and holds some great appeal. Even a volcanic vent to warm your hands!
Coconut Tree Reef

A very pristine site that holds a lot of Barracuda in front of the mooring at 40' – 50' and a beautiful wall behind the vessel stepping down to 110'. Expect to see large schools of fish, Barracuda, spotted eels, and perhaps a turtle and nurse shark too.
Coconut Shallows

This extension of the Coconut Tree Reef offers an opportunity to see Green Moray, Barracuda, large schools of Blue Runner and Creole Wrasse. .
Ponds Bar
A mini wall of 30' – 55', Ponds Bar is a nice reef top where you will get an opportunity to see hawksbill turtles as well as a very large Barracuda (which is always under the boat.) This site also holds a secret known only to Dive St. Kitts. After you see it, don't share it or it will be gone!
Green Point Drift
This drift dive is very tame. There is rarely much current and we like to have the boat drop us off and pick us up at the other end of the site. It is the site to see!! … large Sting rays, Hawksbill Turtles and more. Green Point Drift starts at 25' and dips down to 50' then back on top to 25' again.
Monkey Shoals (the Donut)

This two square mile reef is located 15 minutes from shore. Because of the large area, a number of dives can be done on this reef without repetition. Some of these sites include "The Bason","Doughnut","The White Hole"
and "Hurricane Reef". The depth varies from a shallow depth of 40 feet to a depth of 100 feet. Visibility here is usually 100 feet plus. This site is outside the narrows, so the currents not too bad,.This is home to French and Gray Angelfish, Nurse Sharks, Reef Sharks (Black Tip),Flying Gunards, Glass-Eyed and Yellow Tailed Snappers and
Much more. There are also many types of coral, such as, majestic stands of Pillar Coral, large Brain Coral and Elkhorn Coral. A definite thumbs up for the novice, intermediate and advanced divers.


The Thermal Vents



This reef begins at a shallow 35 feet and plunges to 95 feet. This reef is covered with large 'Black Coral' trees that stem from the side of the reef. With overhangs and small canyons, this reef provides good hiding places for Spotted Drum, High hats Arrow Crabs and some of the largest Lobsters. Divers can visit the hot vent where 100 F water fizzes from the bottom.


Coral Gardens


This area begins at 50 feet and has extensive growth of tube sponges, sea fans, and anemones. Packed with hard and soft corals, this area seems to continue forever. This is home to schools of Atlantic Spadefish and large schools of Horse-Eyed Jacks that tend to love swimming between groups of divers.



Brimstone Shallows
A beautiful reef top at 50' with a curving wall stretching down to 110', this site offers a narrow sand shoot that opens up to a pool. A very nice to dive … going single file with a wall of corals and sponge on both sides.
Bird Rock Reef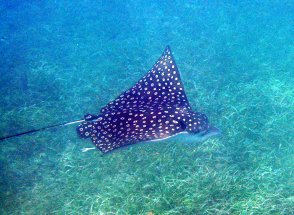 The reef around our hotel is a great shore dive going as deep as 35' within 100 yards of the shore. Diving off the boat a little further out offers a great shallow site where there are lots of hiding places for Octopus, Spotted Moray Eels and Lobster. Although rare and hard to spot, there are even some seahorses on this site. Spotted Eagle Rays or Hawksbill Turtles are also frequently spotted.


Devil's Caves

This 40 foot dive is located at the southern
most point of Nevis. Divers navigate through caverns and around overhangs that are riddled with marine life such as, Glassy Sweepers, Blue Tangs, Chubb, Nurse Sharks, Stingrays, lobster and the occasional Black Tip Reef Shark may cruise by.


Fish Bowl

This 70 foot site has a sandy circular indentation in the coral bed; it
makes a habitat for the illusive Flying Gurnard. Here shoals and shoals of fish (Grey and Yellow Snapper, Angelfish, Grunt) swim among our divers. This is also a place for viewing of lobsters, which tend to align themselves along the cracks in the coral bed.


Turtle Bar

This site is located off the western coast of St. Kitts. The depth is 20-55 feet. An out cropping released by volcanic action, makes great hiding places for the endangered Green Turtles and the Hawksbill Turtles. Divers can navigate between these boulders searching for different crustaceans and Sea Horses.



Our dive sites are chosen on a daily basis based on visibility, water currents a wind direction and of course our guest experience.


Nags' Head

This reef has a beginning depth of 15 feet and plummets to 75 feet. Here the large boulders are stacked on top of each other making great hiding places for crustaceans, crinoids and Parrot fish. Here Eagle Rays cruise past divers in fighter jet formation.


Booby High Shoals

Named because of it's close proximity to Booby Island and located in the 'Narrows' between the Islands of St. Kitts and Nevis, this 40 foot dive is explosive with life. This almost circular shaped reef is packed with lobster, French Grunts, Horse-Eyed Jacks, Southern Stingrays, and Hawksbill Turtles.
The deep ledges provide some protection from the northeast currents that sometimes sweep through here, these ledges provide homes for some of the larger nurse sharks (10-12 feet).